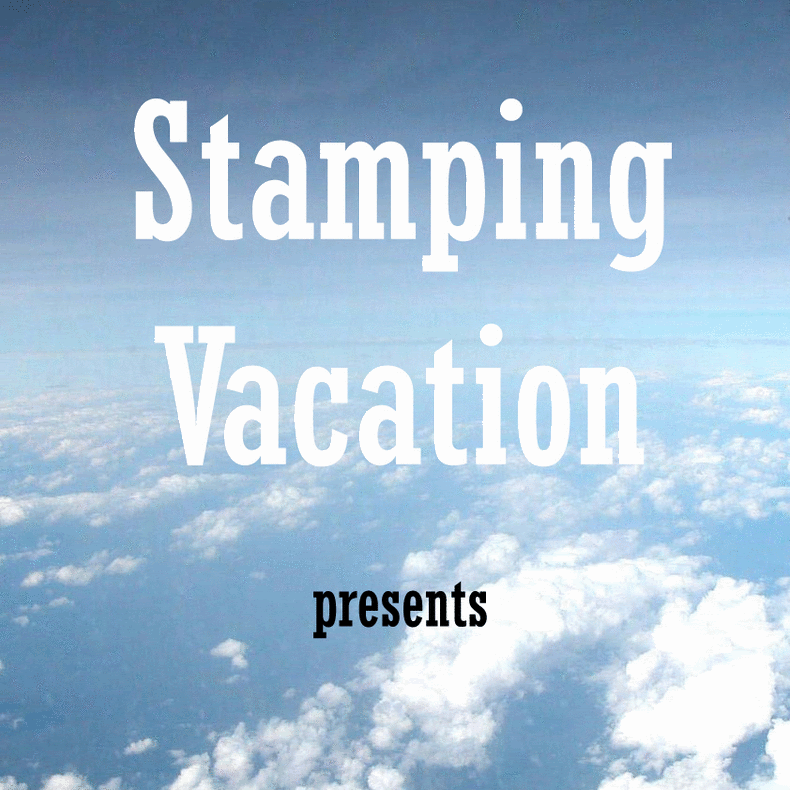 It's here: The
Stamping Vacation
blog hop we have all been waiting for.
Homemade With A Hop.
Welcome to your 7th stop of 10 on Stamping Vacation's first blog hop: Homemade with a HOP! This blog hop starts September 25th at 9 a.m. and ends September 26th at 9 p.m. (US Central time) We're focusing on different homemade embellishments for paper crafting and we have a long list of incredible prizes available to be won on every single blog.My blog is being sponsored by
The Stampsmith Stamps. And there are Four $10 Gift Certificates to
The Stampsmith Store
up for grabs!!
And to win one of the Gift Certificates become a follower of my blog (if you aren't already) and leave a comment below this post.
If you have a favorite handmade embellishment mention it in your comment. Winners will be announced Tuesday, Sept 28.
PLUS,one grand prize winner will receive a gift certificate to the sponsor of their choice for $5-$50 depending on how many blogs they've commented on! There are 10 blogs to hop on so you can win up to a $50.00 gift certificate to the sponsor of YOUR choice! So be sure to comment on every blog! A full list of prizes and blog hop stops can be found here.You should have hopped here from Corry's blog.
If you have gotten lost along the way, return to the beginning
here
.
My handmade embellishment is a flower made from Tulle. To make the
flower start with a long, narrow strip of Tulle (about 2 x 30 inches). Using long running stitches gather up the long edge.
When you get to the end it should look like this:
Now pull the thread tight and it should look like this. Do
not
cut the thread at this point . Take a few stitches to hold the two short ends together. Make several knots and now cut the thread. Adjust the gathers so they are evenly spaced.
Die cut two flowers and grab a fabric covered brad.
Stack the die cuts and brad. Add a little adhesive to hold together. Layer over the tulle flower and push the brad's prongs through the tulle. I like to punch the prongs through the card too. That seems to help hold the flower to the card. So here is your tulle flower.
You can use your flower to decorate a card, a scrapbook page, or a gift package. I used mine on a card . Here is my finished project.

I used an Audrey stamp -The Audrey Hepburn Set from The Stampsmith.
Sentiment is from Inkadinkado.
Papers: GCD Studios, SEI- Bissette Collection, Glossy White CS, and green Vellum from the Paper Comp.
Sizzix Die Cut- Flower Layers #3.
And of course, some detail shots for you.
YOUR NEXT STOP ON THE HOP IS
DANA'S BLOG
. So hop on over and check out Dana's handmade embelly and her prizes! Thanks so much for stopping by and don't forget that Stamping Vacation has a different challenge everyday for all the challenge-a-holics out there. I include myself in that group. LOL.
Have fun and good luck on all the drawings.
Karen